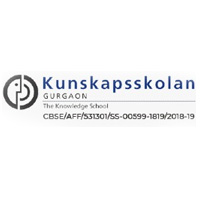 Kunskapsskolan School, Gurugram
Conducted two back to back workshops at Kunskapsskolan international school with Grade 2 students and Grade 4 students around two topics (Indoor Air Check and Energy Saving) from our storybook – City of Stars.
While the Grade 2 students enjoyed interactive storytelling, guessing sources of indoor air pollution, getting such enemies of clean air out of the tent house and placing them in three categories (dust, smoke and gases), it was a delight to see their extreme enthusiasm and excitement in even guessing how to prevent them.
The testimonial from the Team Lead at the school at the end of the day added to our joy…
"It was a pleasure to have you in the school with your team today for a workshop on indoor air pollution. Your team conducted a wonderful session for grade 2 students enriching them with the cause, effect and the ways to prevent indoor air pollution. It was a delight to see our students interacting and participating equally with your team. You took care of each minute detail as per their interest by using the props and storytelling. We look forward to more of such sessions, with you in the future."
In Energy Saving session, was taken aback by the excitement of Grade 4 students to guess energy eating monsters at home, the amount of energy they consume as well as learn how to save energy consumed by the biggest monster – AC, by keeping a check on their everyday behaviours!
City of Stars, a unique and innovative experiential book, with 12 real-life stories and 48 activity pages, is designed to bring behavioural change in children across age groups through the year to protect their own health and environment!